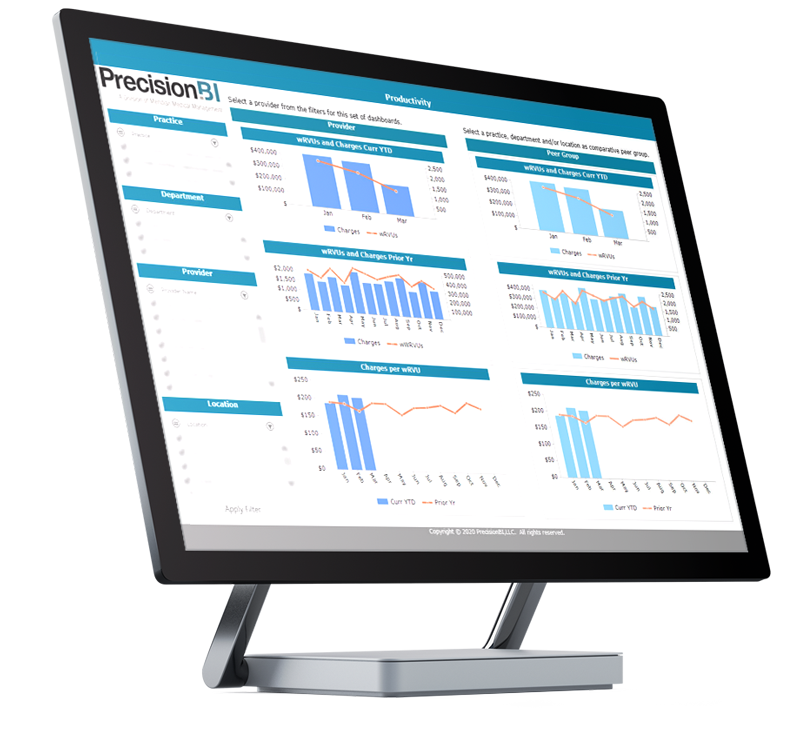 Smarter. Faster. Precise.
The leading healthcare analytics and business intelligence platform that gives you a 360° view of your enterprise performance.
Delivering data-driven insights for thousands of providers
Our health informatics experience has made us one of the most widely deployed healthcare business analytics solutions in the industry.
For more than 20 years, PrecisionBI has been helping healthcare organizations overcome the inefficiencies created by siloed technology platforms and databases that litter today's healthcare IT landscape. Our
healthcare analytics platform
goes beyond traditional dashboard or reporting tools, easily allowing analysis and reporting on key metrics from many data sources to optimize understanding and performance across your entire organization. As an affiliate of Meridian Medical Management, PrecisionBI provides customers with one product that produces many solutions. Most importantly, with our business intelligence for healthcare services, we guarantee an increase in ROI within the first year.
At PrecisionBI, we have an in-depth understanding of how the healthcare environment operates. In order for an increase in productivity and, ultimately, the quality of care, the highly complex nature of healthcare requires full access to financial and clinical data.
As a healthcare BI company that provides services specifically for non-technical business users, our business intelligence for healthcare solutions are comprehensive and easy to use. Clinicians and other users that have little to no technical experience are able to analyze and report data with ease. Clients are able to evaluate their data thoroughly—monitor trends, build strategies, find the root cause of specific issues, and more—throughout their specific healthcare practice.
Our healthcare BI solutions can monitor crucial healthcare metrics, assemble customized dashboards for better organization, and gauge the performance of healthcare facilities. With top-tier business intelligence tools at hand, healthcare companies can operate with better organization and in a more efficient manner.
Contact us
to learn more about how PrecisionBI can turn your data into actionable insight.

Revenue Acceleration Program (RAP)
Providing clients an unprecedented value proposition.

Four Pillars of Business Intelligence
Self-service BI  Data for the masses
Enterprise BI  Data is everywhere
Collaborative BI  Data socialization
Automated BI  Data working for you